Hacking the Scavenger Hunt with QR Codes
Hacking the Scavenger Hunt with QR Codes
By James Sturtevant
As I read through the 20 page assignment on the Industrial Revolution, I kept thinking to myself...Wow, this is boring! If I was feeling that burn; imagine what my students were going to feel.
I decided it was time to break out of the box. In this case, literally break out of the box of the four walls of my classroom.
I sent my students on a school-wide scavenger hunt utilizing QR-codes, a hint sheet, and provocative prompts from the reading. This episode will detail this EPIC lesson plan from the vantage point of two of my awesome students. I will also offer advice on how you can create a scavenger hunt at your school.
First, secure a QR code reader. I love this simple, but powerful app i-nigma.
Second, produce QR codes. Classroom Tools has a remarkably easy site to utilize in this quest. Merely type in the questions and answers and then Classroom Tools will generate the codes.
And finally, concoct hiding places around the school for your codes. Create a HINT SHEET to help students search. Below, is my list. I'll bet you could apply many of my hiding places to your building!
HINT SHEET
Finding this one could take you to another level
On the back of a warning
Where Sturtevant gets his Old Skool messages
These kids looked great in 88
Behind something black and gray
If you find this one…YOU'RE REALLY ON A ROLL!
If you don't find this code, your prospects of winning will be extinguished
Open this door and find an awesome relationship
If you get to the bottom of where this code is placed…I'll be shocked
Search this virtual tool we use daily
ANSWERS
Elevator
On the back of the "No Firearms" warning on the front door
My mailbox in the main office
The Class of 1988 composite
On the backside of a trashcan in the hallway
On the the large paper rolls in the supply room
On an obscure fire extinguisher
On the backside of my wife's office door
On the bottom of the defibrillator in the basement
On the "About" section of Google Classroom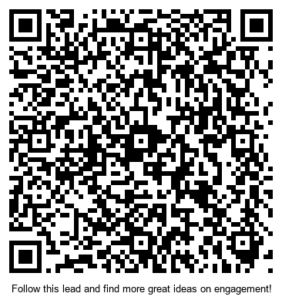 The Problem
Your next lesson looks a bit dry.
The Solution
Incorporate unit concepts into a scavenger hunt utilizing your entire building.
What You Can Do Tomorrow
Download the i-nigma QR reader
Create QR codes on Classroom Tools
Determine hiding places for codes around the building
Craft a Hint Sheet
Morph a dull lesson into challenging your students to hustle around the building formulating wonderful responses to the day's essential questions.
This post first appeared at JamesAlanSturtevant.com.